This would be entire project context. Whatever you do in IntelliJ IDEA, you do that in the context of a project. A project is an organizational unit that represents a complete software solution. A project in Android Studio is like a workspace in Eclipse. In android Studio a project, can contain multiple modules. A module in Android Studio is like a project in Eclipse. In the above screenshot "LoginAuthenticator" is the name of my project
This means that, in theory it is possible to build multiple apps with in the same project. From my personal experience, creating multiple apps with in the same project doesn't work well. So, I recommend not making your hands dirty trying the same thing. Instead, it is a better idea to create single app per single project.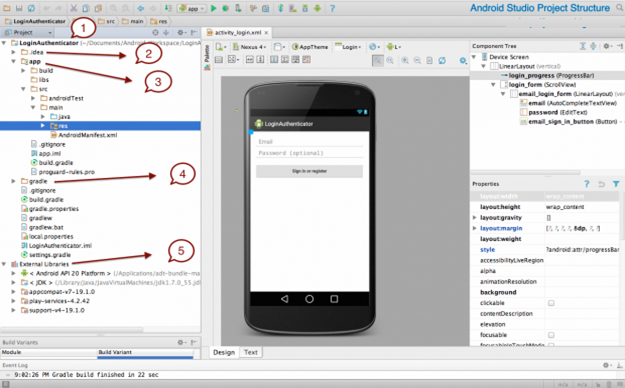 There are many more items which you use to build a good Android application. Apart from coding for the application, you take care of various other resources like static content that your code uses, such as bitmaps, colors, layout definitions, user interface strings, animation instructions, and more. These resources are always maintained separately in various sub-directories under res/ directory of the project.
This tutorial will explain you how you can organize your application resources, specify alternative resources and access them in your applications.