1. What is Power BI?
Power BI is a collection of Business Intelligence tools, techniques, and processes that are used to extract valuable information from the raw business data by connecting, transforming, and visualizing raw data sets from multiple sources.
It provides the right tools to create interactive dashboards and live reports that can be shared and published on various platforms to help business users and stakeholders make better decisions. With the competitive and highly categorized information, planners and decision-makers can track their performance in the market.
2. Why use Power BI?
Power BI provides a simple setup to connect, transform, and visualize the raw business data from multiple sources. Even non-technical users can extract valuable information from their business data and use it to make better decisions. It provides a secure cloud service that enables the user to view dashboards, reports and share them with other business users and stakeholders in real-time analysis.
Power BI provides AI features in the form of Power Query and Power Q&A. With Power Query, you can create the dashboards by simply typing in the columns and the visuals you want to include. While Power Q&A allows you to analyze your data by giving voice commands.
Small businesses can use Power BI Desktop to visualize their business data without spending their time and money in maintaining a separate team for data analysis.
3. What is the difference between Managed Enterprise BI and Self-service BI?
The limitations of Managed Enterprise BI led to the birth of Self-service BI. There are significant differences that separate them.
| | |
| --- | --- |
| Managed Enterprise BI | Self-service BI |
| Here, data flows in from a plethora of sources and, for this reason, there is no order in which companies ingest and manage their data sources. | This enables companies to ingest data from any data source, seamlessly. Companies take in data from any source in any format. |
| Companies fail to conduct their business operations, effectively, as they are not able to report and analyze data and collaborate for collecting valuable insights from it. | With data ingestion falling into order, companies are able to process data and, consequently, conduct business operations with ease. |
| There are time constraints and a lack of proper information when it comes to analyzing data. | Analyzing data is easy, and it is done implicitly. Time constraints are hence alleviated. |
| Third-party vendors are employed to help companies make the most out of their data sources, leading to budget problems and slow productivity. | There is no need for third-party vendors anymore and all associated constraints are eradicated. |
| Complex programming skills are necessary for generating reports. | Users could generate intuitive and actionable dashboards almost instantaneously without executing complex programming codes. |
4. What exactly is Self-service BI?
Self-service BI or Self-service Business Intelligence (SSBI) is an approach to data analytics, reporting, and visualization that enables users to generate easy-to-understand, intuitive, and actionable dashboards, almost instantaneously.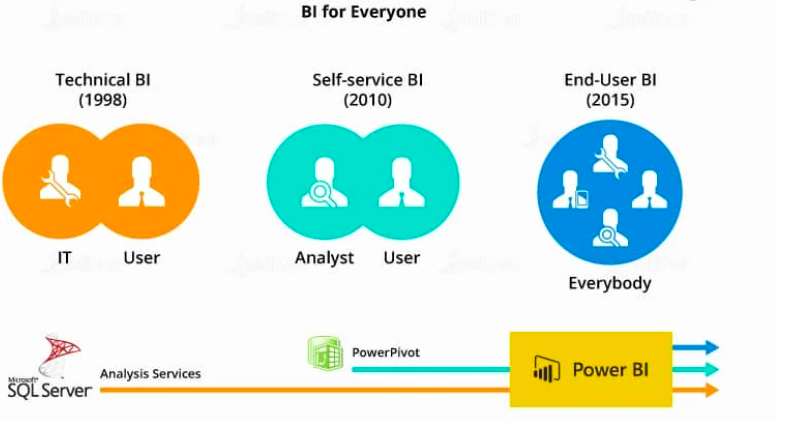 The most striking feature of SSBI is the fact that users are not required to be adept at technical expertise when it comes to data reporting. Using available filters and data manipulation options, they can influence data as per their business needs and further create reports. There are two parts to Microsoft SSBI:
Excel BI toolkit
Power BI
5. Why are you interested in Power BI? What makes you think that Power BI would be a great career option?
A cloud-based data reporting and visualization tool, Power BI makes it possible for users to generate reports online. Once reports are generated, users can share them with their colleagues in their workplace. This aspect of Power BI makes it quite popular among business users. And therefore, Power BI is both an interesting and promising career option.
6. Mention the important features of Power BI.
Features of Power BI are many. The most notable ones are:
It allows users to transform data into visuals and share those visuals with colleagues.
It allows users to explore and analyze data from all sources (in an all-in-one view).
It allows users to scale across organizations with built-in governance and security.
Once an output is generated, users can display the same in multiple devices that are compatible with the Power BI application.
With Power BI natural language processing or Power BI Q&A, users can perform queries on reports using simple English words.
7. Is Power BI free to use?
Well, users can use Power BI for free. However, the best of Power BI can be availed with the Power BI Pro subscription account. This can be purchased from the Microsoft Store. The subscription account basically offers an enhanced version of several features that are available with the Power BI free account. Most business users use a subscribed account as it offers more data refreshes per day and other features as compared to the free version.
8. What are the versions of Power BI?
Power BI currently comes in three versions:
Microsoft Power BI Free/Desktop – This version is for users who want to get business insights from their data with visualizations.
Microsoft Power BI Pro – This is the full version of Power BI. It allows users unlimited reporting, sharing, and viewing of reports.
Microsoft Power BI Premium – This version provides a license for all users in an organization.
9. What is Power BI Desktop?
Power BI Desktop is a Windows desktop-based application for personal computers, primarily for designing, generating, and publishing reports to the cloud. Used as an on-premise version of Power BI, Power BI Desktop can run on PCs and work full-fledged even when the system is not connected to the Internet. Just when users want to publish their reports to the cloud or share with colleagues, they are supposed to connect to the Internet. Power BI Desktop is basically the first application that users jump into when they board on Power BI.
10. What are the major components of Power BI?
There are five different components of Power BI.
Power Pivot: Fetches and cleans data and loads on to Power Query
Power Query: Operates on the loaded data
Power Q&A: Makes it possible for users to interact with reports using simple English language
Power View: Lets users create interactive charts, graphs, maps, and other visuals
Power Map: Enables the processing of accurate geographic locations in datasets
11. What is the purpose of the 'Get Data' icon in Power BI?
When users click on the Get Data icon in Power BI, a drop-down menu appears and it shows all data sources from which data can be ingested.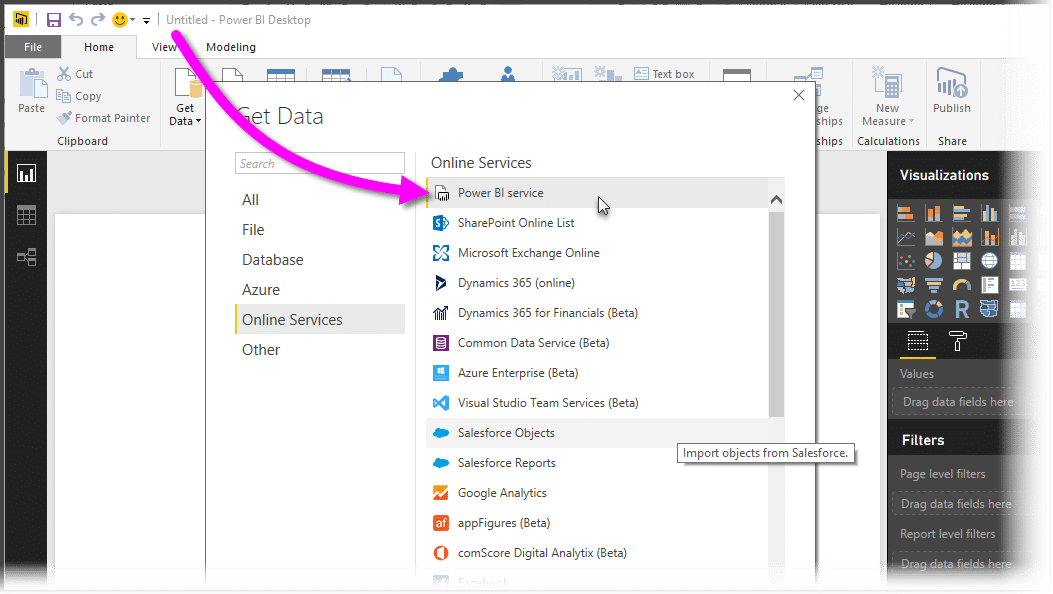 Data can actually be directly ingested from any source including files in Excel, CSV, XML, JSON, PDF, and SharePoint formats and databases such as SQL, Access, SQL Server Analysis Services, Oracle, IBM, MySQL, and much more. Also, Power BI datasets and Power BI data flows are compatible. Data can also be taken in from Azure and other online sources.
12. How can we filter data in Power BI?
Data can be filtered using various filters that are available in Power BI, implicitly. There are basically three types of filters, namely, Page-level filters, Drillthrough filters, and Report-level filters.
Drillthrough filters: With Drillthrough filters in Power BI Desktop, users can create a page in their reports that focuses on specific entities such as suppliers, customers, or manufacturers.
Page-level filters: These are used to filter charts that are present on individual pages.
Report-level filters: They are used to simultaneously filter charts that are present on all pages of a report.
13. How is Power BI different from other BI tools?
Power BI provides better features and data manipulation tools as compared to other BI tools like Tableau. A single user can connect with multiple data sources without any experience in coding and data analytics. As a product of Microsoft, Power BI is closely integrated with other Microsoft tools such as Office 365, SharePoint, and Bing.
In the free version of Power BI Desktop, the user can analyze datasets of up to 1GB in storage along with 10,000 rows of data steaming every hour. Moreover, it provides features like Power Query which allows the user to easily visualize the datasets by giving the command in the natural English language.
14. MSBI vs Power BI
Below are the key differences between the MSBI and Power BI:
| | |
| --- | --- |
| MSBI | Power BI |
| SSRS in MSBI is used to integrate the processing components and programming interfaces to test and share the reports on various devices. | Power Bi is a collection of BI tools and techniques that allows the user to create dashboards and reports by transforming the raw business data into visually interactive charts, maps, and graphs. |
| It cannot access the data from cloud storage. | Can access the data from both On-premise and cloud storage. |
| MSBI can handle large datasets without putting much stress on the computer systems. | Power BI can handle datasets of a maximum of 10MB or 33,000 rows. The user has to run direct queries if the data exceeds the limit. |
| SSRS in MSBI can only be used to create visualizations and reports. | Power BI is used to create data models, reports, and dashboards, which you can access and share via Power BI Apps and web browsers. |
15. Power BI vs Tableau
Below are some of the major differences between Power BI and Tableau:
| | |
| --- | --- |
| Power BI | Tableau |
| Power BI can handle a limited volume of datasets. | Can handle huge datasets without affecting the performance of the system. |
| Can be used by both naive and experienced users. | Used by experienced professionals for data analytics purposes. |
| Power BI has an easy-to-learn interface that helps the user to visualize the data and create reports. | The interface is difficult to understand by a non-technical user. |
| Provides an easy way for embedding the reports. | It's a real-time challenge for embedding reports in Tableau. |
| Power BI uses Data Analysis Expression(DAX) to build formulas and expressions for measuring the columns. | Tableau uses Multidimensional Expressions(MDX) to create complex calculations and measure columns and dimensions. |
16. What are the essential applications of Power BI?
Power BI is used by the following professionals and departments:
Project Management Office: Power BI is used by project managers to identify the current situation of various business units. It helps them to see the overall performance of the team and track the progress of various projects.
Business and Data Analysts: Business Analysts use Power BI to analyze the raw business data at greater speeds and efficiency. They prepare the data by cleaning and transforming it based on specific requirements and prepare live reports to express the raw in the form of visual insights.
Database Administrators: By using PowerShell or Microsoft 365, the database administrator can increase the Power BI embedded capacity and assign the roles to different team members. With Power BI, the Database Administrators can set the passwords and decide who can access the reports and dashboards in Power BI.
IT Professionals: IT professionals can use Power BI to create stunning visualizations and dashboards to track their performance and visualize various log files for the meetings. It also helps them to find out the areas where the team needs to work on and improve their performance.
Reports for the consumer: With Power BI, the business user can add custom reports to various applications designed from the consumer's perceptive. For example, you can create a report that shows your daily sales down in different countries and add it to your social media profiles, websites, and applications. This will show the consumer your product's popularity and will motivate him to buy it.
17. Advantages of using Power BI?
Here are a few advantages of using Power BI over other applications:
ETL/Data Recovery Suite: Power BI has a robust set of tools for implementing the ETL(extraction, transformation, and loading the datasets) capabilities. Data preparation and transformation are very important before moving to the visualization part. Power BI allows the user to directly build reporting datamarts and remove any ambiguities present in the datasets.
Custom Visualization: Power BI provides you the flexibility of creating custom visualizations and adding them to your dashboards and live reports. Custom reports help the planners and decision-makers to identify the problems and make the best decision to improve their performance in the market.
Q&A Capability: Power BI is capable of executing natural language queries with the help of Power Query and Power Q&A. Power Bi use AI and Natural Language Processing(NLP) algorithms to process the commands given by the user and produce the desired results.
Easy to use: You don't need to be an expert to visualize your data and create reports in Power BI. It has a simple interface that allows even a non-technical user to transform the raw data into visually interactive dashboards and reports.
Price: Compared to other BI and data visualization tools, Power BI is highly affordable. Small businesses can use power BI for free and take smart decisions to improvise their performance in the market. Moreover, Power BI Pro comes with an array of features for just $10 a month.
18. What are the building blocks of Power BI?
Below are the building blocks of Power BI:
Visualizations: These are the visual representations of the raw data collected from varied data sources. Visualizations can be different types such as line graphs, donut charts, pie charts, bar graphs, maps, etc.
Datasets: It's a collection that Power BI uses to create visualizations and reports. Datasets in Power BI can be of different types such as Excel sheets, CSV files, Oracle tables, and more.
Reports: A report in Power BI is a collection of visualizations bought together on a single or multiple pages. Each visualization in a report shows the specific aspect of the data based on the requirements. For example, profit by-products, sales by country, city report, etc.
Dashboards: Dashboards are single-layer presentations with one or more visualizations embedded on a single page. Dashboards can be shared on various platforms like Power BI Apps to provide live information.
Tiles: Tiles are the single visualizations in a dashboard or report. For example, a pie chart, line graph, or any other visualization is a single tile in Power BI.
Next up on this top Power BI interview questions and answers, let us check out some of the top Power BI questions that come under the intermediate category.
19. What is Power BI Dashboard?
Power BI Dashboard is a canvas that helps in creating a story with visualizations and templates to better understand the data. It contains all the highlights of the data in the form of a one-page report.
20. What are formats in Power BI?
The different formats in Power BI are as follows:
Power BI Desktop – Power BI Desktop can be downloaded and installed on your PC. You can connect it to the data source, transform the data, and analyze and visualize it with the help of templates.
Power BI Services – Power BI Services is a Service-as-a-platform or a cloud based service.
Power BI Mobile App – The Power BI App is available for iOs, Android, and Windows.
21. What are custom visualizations?
Power BI Pro users can create their own visualizations from the custom visualizations library. First, a development project will have to be created and then the visual can be tested in Power BI services. As soon as the custom visualization is created, it is thoroughly tested before posting. It is saved as a .pbiviz file before sharing.
22. What are the parts of Microsoft's self-service business intelligence solution?
Microsoft's self-service business intelligence solution has two parts:
Excel BI Toolkit – It helps users create interactive reports using imported data from various data sources. Data can be modeled according to what is needed in the report.
Power BI – It helps users share the interactive reports created using Excel BI Toolkit.
23. Is Power BI an effective solution?
Power BI is a cloud-based business intelligence tool. It helps analyze and visualize raw data imported from various data sources. It integrates data visualizations with data analytics, to help businesses make better decisions centered around data. Power BI is easy to use and processes data in a reliable and easy-to-understand way.
Power BI can work on different platforms and be shared on the cloud. All of this makes it an affection solution.
24. What do you understand by Power BI services?
Power BI Services is a Service-as-a-platform or a cloud-based service. It can be used to analyze, and visualize data aligned with sharing business insights efficiently.
25. How can you refresh data in Power BI?
Data can be refreshed in the Gateway in Power BI by scheduling Refresh.
26. What is Power Pivot?
An add-in for Microsoft Excel 2010, Power Pivot enables users to import millions of rows of data from various sources into one Excel Workbook. Users can create calculated columns, measure using formulas, and create relationships between heterogeneous data. They can also build PivotCharts and PivotTables. Users can analyze data effectively to help in making timely business decisions without any help from IT.
27. What is Power Query?
Power Query is an ETL tool. It can help shape, transform, and clean data with the help of intuitive interfaces and no need for coding. Power Query can help with the following:
Importing data from various data sources like files, databases, social media data, big data, etc.
Appending and joining data from several sources.
Adding or removing data to shape it according to requirements.
28. What is Power View?
Power View is a technology for data visualization that allows users to create interactive graphs, charts, maps, and other visualizations that help bring data to life. Power View is available in SharePoint, Excel, Power BI, and SQL Server.
29. Differentiate between Power BI and Excel.
| | | |
| --- | --- | --- |
| Parameter | Power BI | Excel |
| Tabular reports | Power BI is not very good at handling tabular reports. | Excel is better at handling tabular reports. |
| Duplicate table | Power BI can't display duplicate tables. | Excel allows users to display duplicate tables. |
| Reports | Power BI allows interactive, personalized reports. | Excel users cannot perform advanced cross-filtering between charts. |
| Analytics | Power BI offers simple analytics. | Excel offers advanced analytics. |
| Applications | Power BI is ideal for KPIs, alerts, and dashboards. | Excel has new charts now but they can't connect to data model. |
30. Explain the filled map in Power BI.
Power BI comes with two built-in maps – chart maps and filled maps. A filled map will show you data points on geospatial areas instead of just showing points on a map. Working with a filled map can be a lot more difficult than working with a chart map.
31. How to perform query tasks on the Power BI desktop?
You can use Power Query on the Power BI desktop via the power query editor. To open it, you need to go to Edit Queries from the home tab of the Power BI desktop.
32. How do you create a group in Power BI?
You first have to select all the fields you want to group then, right-click on it and open the context menu. You can select the Group option from the menu and Power BI will automatically group these items.
33. Explain what M language is in Power BI.
M is a query language formula that is used in Power BI Query Editor. It helps in preparing data before loading it into the Power BI model. The main function of Power Query is to mash-up data from one supported source to another. These data mashups are expressed with the help of Power Query M Formula Language.
34. What is the Time Intelligence function?
The Time Intelligence function allows users to manipulate data with the help of periods.
Intermediate MS Power BI Interview Questions and Answers
35. Where is data stored in Power BI?
When data is ingested into Power BI, it is basically stored in Fact and Dimension tables.
Fact tables: The central table in a star schema of a data warehouse, a fact table stores quantitative information for analysis and is not normalized in most cases.
Dimension tables: It is just another table in the star schema that is used to store attributes and dimensions that describe objects stored in a fact table.
36. What are content packs?
Content packs are packaged reports, dashboards, and datasets, which can be shared with other Power BI users in the organization. When a content pack is connected on the Powerbi.com portal, report items are merged into workspace lists.
The most notable features of content packs are as follows:
Provide access to specific groups or entire organizations
Can be customized with a title and a description to help users select the right pack
Users who have access to the content pack can create new dashboards from the contents
37. What are the different views in Power BI Desktop?
There are three different views in Power BI, each of which serves a different purpose: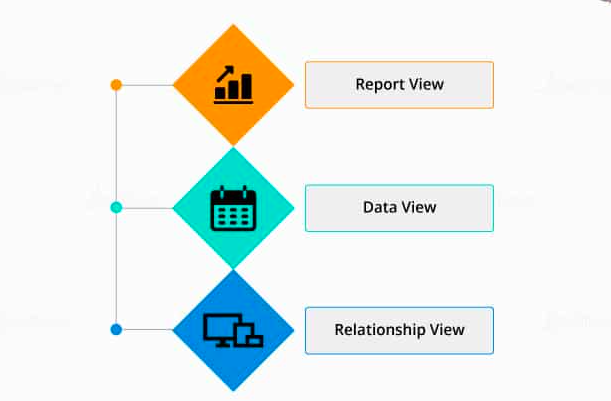 Report View: Users can add visualizations and additional report pages and publish the same on the portal from here.
Data View: Data shaping can be performed through Query Editor tools.
Relationship View: Users can manage relationships between datasets in this view.
38. What is row-level security?
Row-level security restricts the data that a user can view and has access to, based on filters. For configuring row-level security, users can define rules and roles in Power BI Desktop and publish the same to Power BI Service. Also, the username() function can be used alongside table relationships to restrict the data to the current user.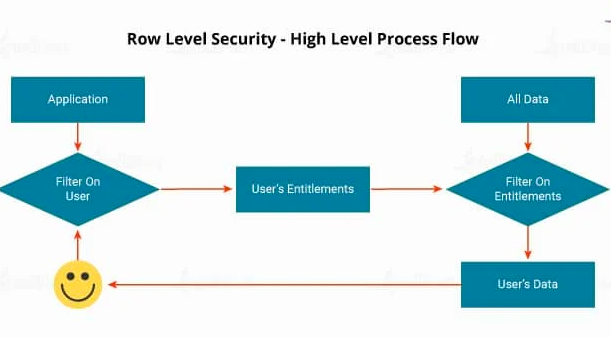 However, for enabling row-level security, a Power BI Pro subscription account is required, and Excel sheets can only be used when they are converted to the .pbix file format.
39. What is DAX? What are the benefits of using variables in DAX?
DAX or Data Analysis Expressions can be used to query and return data by a table expression. It is a formula language that is used to perform basic calculations and data analysis on the data in Power Pivot. Also, it is used to compute calculated columns, calculated fields, and measures. However, data cannot be inserted or modified using DAX.
DAX Syntax:
Total Sales = SUM(Sales[SalesAmount])

Where 'Total Sales' is a 'Measure'; 'SUM' is a 'DAX Function', and 'Sales[SalesAmount]' represents the referenced table and the referenced column name.
Benefits of using variables in DAX:
Variables can be reused in DAX queries, thus avoiding additional queries of the source database.
Variables make DAX expressions understandable.
40. What is bidirectional cross-filtering in Power BI?
Bidirectional cross-filtering in Power BI Desktop allows data modelers to determine how they want filters to flow for data using relationships between tables. With bidirectional cross-filtering, the filter context is propagated to a second related table on the other side of a table relationship. This can help data modelers solve the many-to-many problem without writing complicated DAX formulas. Thus, bidirectional cross-filtering simplifies the job for data modelers.
41. How are relationships defined in Power BI Desktop?
If there are no null values or duplicate rows, relationships between tables can be defined in two ways:
Manually: Users can manually define relationships between tables using primary and foreign keys.
With the autodetect feature: When enabled, this inherent feature of Power BI detects relationships between tables and creates them automatically.
42. What do you know about Power BI Query Editor?
By using Power BI Query Editor, users can load data from a wider number of data sources and apply transformations to them, including adding new columns and measures.
Power BI Query Editor comprises four tabs:
| | |
| --- | --- |
| Query Editor Tab | Use Case |
| Home | Import data from Query Editor into the New Query groupUse the Parameter group to create and manage parametersInclude a function to refresh the preview data for the current table, or all tables, in the datasetManage columns, reduce rows, and sort groups |
| Transform | Change the data types of columns, rename columns, replace values, and fix errors in the Any Column groupThe structured column group provides options for working with the nested dataRun R Script function enables to run R Queries directly on Power BI Query Editor |
| Add Column | Use Add Custom Column to create a new column using a DAX formulaUse Conditional Column to add a column based on the values in another columnUse the From Number group to apply statistical, standard, and scientific functions to numerical columns |
| View | Show or hide Query Editor SettingsFrom here, the Advanced Editor window can be opened to view and edit the query code |
43. What is Advanced Editor in Power BI?
Advanced Editor can be used to see the query that Power BI runs against data sources to import data.
The query is written in M-code, the Power Query Formula Language
To view the query code from Power BI Desktop, choose Edit Queries from the Home tab
From either the Home or the View tab, click on Advanced Editor to work on the query. The Advanced Editor window opens, displaying the code for the currently selected query
When we make transformations to our data in Query Editor, the steps are saved to the Applied Steps in the Query Settings
These steps are also applied to the code in the Advanced Editor
44. Why should general formatting be applied to data in Power BI?
By formatting data, users can help Power BI categorize and identify data, making it much easier to work with.
Enter a custom formula to create a new column, including calculations using values from the other columns
To create a new column, click on Add Custom Column
In the new column name box, type the name of the column and add the formula to the custom column formula box; for example, [ShipDate] – [OrderDate]
Select a column from the available columns list and click on Insert or double-click to add it to the custom column formula text box. Then, click on OK
The new column is appended to the table, and the formula is visible in the Formula Bar
Custom Column Formula:
= Table.AddColumn(#"Sorted Rows",
"DaysOrderToShip", each [ShipDate] -
[OrderDate])

The above code is the formula to create a custom column, which calculates the days from when an order was placed to when it got shipped.
45. Name the different connectivity modes available in Power BI?
There are three main connectivity modes available in Power BI:
SQL Server Import: It's the default and most commonly used connectivity option in Power BI. With SQL Server Import, the user can fully utilize the Power BI Desktop. You can easily connect the SQL Server data with Power BI and run queries on it.
Direct Query: Direct queries can be executed on datasets exceeding the recommended size. In this case, Power BI will only store the metadata of the source and execute direct queries on it. However, it limits the operations you can perform to prepare your data for reporting.
Live Connections: Power BI Service can be used to connect with live data sources such as SQL Server Analysis Services, Power BI Datasets hosted by Power BI Service, and Azure Analysis Service. In a live connection, all the interactions will be done using direct queries.
46. What are the different types of refresh options available in Power BI?
There are four types of refresh options available in Power BI:
Package Refresh: It synchronizes your data in Power BI Desktop or Excel files between Power BI service and SharePoint Online and OneDrive.
Model or Data Refresh: Refresh the data available in Power BI Service with the data stored in the original data source.
Tile refresh: This feature updates the cache for Power BI tiles every 15 minutes on the dashboards.
Visual Container Refresh: Used to refresh the visual containers and the visuals of cached reports once the data is changed.
47. What data sources can Power BI connect to?
Power BI can connect to various data sources but it can be categorized as follows:
Files: Power BI can import data from files like .csv, .xslx, .pbix, and .xlxm.
Content Packs: Content packs are a collection of related files or documents, stored as a group. Power BI has two types of content packs – from service providers like Google Analytics, or Salesforce, and the ones created and shared by other users in the organization.
Connectors: Connectors to databases and other datasets like Database and SQL, Azure SQL, etc.
48. What is a comprehensive working system of Power BI?
Power BI's working system comprises four steps:
Data Importing: The first step is to import the data and then convert it into a standard format.
Data Cleaning: Once the data is assembled, it needs to be transformed or cleaned to remove unwanted data.
Data Visualization: In this step, the data is visually represented on the Power BI desktop in the form of reports and dashboards with the help of powerful visualization tools.
Save and Publish: Once your report is ready, you can save and publish the reports. These can be shared with users through mobile apps and the web.
49. What are the different types of filters in Power BI reports?
There are various filter types in Power BI:
Visual-level Filters – These filters work on single visualizations. They reduce the amount of data the visualization can see. These filters can filter calculations as well as data.
Page-level Filters – These filters work on the report-page level. Different pages in the same report can have different page-level filters.
Report-level Filters – These filters work on an entire report. They filter all visualizations and pages included in the report.
50. What are the types of visualizations in Power BI?
The following are some types of visualizations that are available in Power BI:
Bar and Column Charts: You can use these visualizations to look at a specific value across various categories.
Area Charts: Area Charts help look at the magnitude of change over time.
Card: Cards can be used to show the aggregate value of particular data points.
Doughnut and Pie Charts: These charts help you visualize the relationship between parts of a whole.
Maps: Maps show quantitative and categorical data with spatial locations.
Matrix: Matrix is a type of table that helps see aggregate data easily.
Slicers: A slicer is used to filter other visuals on the page.
51. Why and how would you use a custom visual file?
A custom visual file helps users if none of the already existing visuals fit the needs of the business. These are usually generated by developers and they can be used just like prepackaged files.
52. What are the various types of users who can use Power BI?
Report Consumers: They consume reports according to their particular needs.
Report Analyst: They require detailed data for their analysis of the reports.
Self-Service Data Analyst: They need an in-depth analysis of the data to work with.
Basic Data Analyst: They are able to build their own datasets.
Advanced-Data Analyst: They can write SQL queries and bring hands-on experience in Power BI.
53. What is the maximum data limit per client for the free version of Power BI?
A free Power BI version allows users 10 GB of storage space in the cloud for hosting Power BI reports. The maximum size allowed for a report in the cloud is 1 GB.
54. Where do you reshape data in Power BI?
Data can be reshaped in Data Editing.
55. Which is a single-page canvas that uses visualizations to depict a story?
Power BI Dashboard.
56. List out some drawbacks/limitations of using Power BI.
Some limitations of Power BI are as follows:
Complex in nature
Power BI has been designed a little complex. Users need to know in-depth about Power BI before they can start working on it.
Large Data
Power BI isn't capable of handling large data and might time out while processing it. It cannot process data larger than 1 GB.
Limited Sharing of Data
Only users who are on the same domain or have their email addresses listed on Office 365 can receive the files you share.
Limited Data Source
Power BI allows real-time connection with very limited data sources.
57. What are the most common DAX functions used?
Here are some of the most commonly used DAX functions:
SUM, MIN, MAX, AVG, COUNTROWS, DISTINCTCOUNT
IF, AND, OR, SWITCH
ISBLANK, ISFILTERED, ISCROSSFILTERED
VALUES, ALL, FILTER, CALCULATE,
UNION, INTERSECT, EXCEPT, NATURALINNERJOIN, NATURALLEFTEROUTERJOIN,
SUMMARIZECOLUMNS, ISEMPTY,
VAR (Variables)
GEOMEAN, MEDIAN, DATEDIFF
58. What are the three fundamental concepts of DAX?
Three fundamental concepts of DAX are as follows:
Syntax: It is the formula that includes the functions. If the syntax is wrong, the result will show an error.
Functions: These are arguments that a specific order to perform.
Context: Contexts are of two types – Row Context and Filter Context. Row Context is applied when a formula has a function that applies a filter to identify a row in a table. Filter Context is applied when one or more filters are used to get a value.
59. What are the purpose and benefits of using the DAX function?
DAX or Data Analysis Expression is a functional language that can create calculated columns and/or measures for smarter calculations to limit the data the dashboard has to fetch and visualize.
60. What are the different Excel BI add-ins?
The most important Power BI add-ins to Excel are as follows:
Power Query – Power Query helps in editing, loading, and finding external data.
Power Pivot – Power Pivot is mainly used in data analysis and data modeling.
Power View – Power View is used to design interactive and visual reports.
Power Map – Power Map helps display insights on 3D maps.
61. What is Power Pivot Data Model?
Power Pivot Data Model is made up of data tables, types, table relations, and columns. The data tables are constructed to hold data for some business entities.
62. Can we have more than one active relationship between two tables in Power Pivot Data Model?
There can't be more than one active relationship between two tables. There can be more than one relationship between two tables but only one of them can be active.
63. What is query folding in Power Query?
When the steps defined in Power Query are rendered in SQL and implemented by the source database instead of the client machine, it is known as query folding. Query folding is important for performance processing and scalability.
64. Can SQL and Power Query/Query Editor be used together?
Yes, SQL and Power Query/Query Editor can be used together by defining an SQL statement as the source of a Power Query/Query Editor function. This helps ensure a good database query has reached the source. It also helps avoid any unnecessary complexity and processing by the client machine.
65. Which language is used in Power Query?
M-code is a new programming language used in Power Query. It's really easy to use and pretty similar to other programming languages.
66. What are the primary requirements for a table to be used in Power Map?
The primary requirement is to have unique rows. The table also needs to have location data. The location data can be in the form of latitude/longitude pair, address fields, etc.
67. What are the data sources for Power Map?
The data sources can be Excel or external. To prepare the data you have to make sure all the data is in the Excel table format, with each row depicting a unique record. The row/column headings must contain text and not actual data. This is important to make sure Power Map interprets it correctly while plotting geographical coordinates. You can use meaningful labels to make the category and value field handy when you're designing your tour in the Power Map Tour Editor pane.
If you want to load data from an external source, you can follow these steps:
Open Excel, click Data, and then the connection you want to add from the Get External Data group.
A wizard will open. You can follow the steps given.
On the final step of the wizard, check the Add this data to the Data Model.
68. Is Power BI available on-premises?
No. Power BI isn't available on-premises as a private cloud service. But, you can securely connect your on-premises data sources with Power BI and Power BI Desktop.
69. What is Power BI Q&A?
Power BI Q&A is a language tool that helps with data querying and obtaining the required results. Q&A renders your questions and reveals a restated query about what it requires from your data.
Advanced Power BI Interview Questions and Answers for Experienced Professional
70. What are the most common data shaping techniques?
The most common data shaping techniques are:
Removing Columns and Rows
Adding Indexes
Applying a Sort Order
71. What is the difference between Calculated Columns, Calculated Tables, and Measures?
Calculated Columns
Calculated Tables
Measures
●     Added to tables by applying DAX formula on the existing data
●     DAX formula defines values in new columns rather than querying data sources
●     Useful when data sources do not contain data presented in the desired format
●     Created using DAX formula to define values
●     Created in both Report and Data views
●     Work well for intermediate calculations and the data that users want to be stored in the model
●     Use other DAX functions to create complex calculations
●     Used for highlighting running totals, comparing sales, sales forecasting, and other purposes
●     Created in both Report and Data views 
72. Which In-memory Analytics Engine is used in Power Pivot?
The primary in-memory analytics engine behind Power Pivot is xVelocity. This engine handles large amounts of data as it stores data in columnar databases. In in-memory analytics, all data is loaded to RAM memory, and therefore, the processing speed is really fast.
73. What is Power BI Designer?
A powerful and flexible new tool under the Power BI umbrella, Power BI Designer empowers users to create intuitive reports and dashboards, easily and quickly and also lets the users change visual views of their data at their fingertips for better analytics and informed decision-making. This designer is a host of drag-and-drop capabilities that help users place content exactly where they want it on the report canvas in a well-structured layout.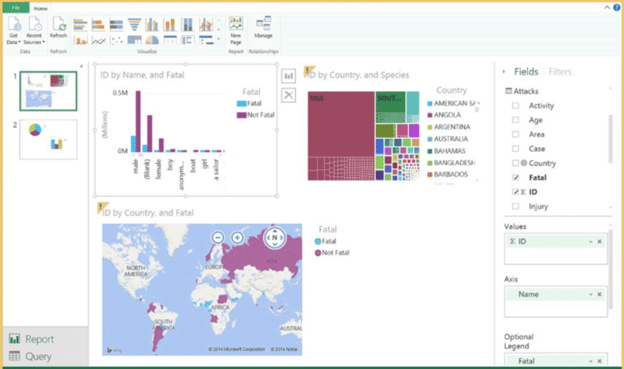 74. Is it possible to refresh Power BI Reports after they are published to the cloud?
Yes, it is possible. Gateways can be used to do so.
For SharePoint: Data Management Gateway
For Powerbi.com: Power BI Personal Gateway
75. What gateways are available in Power BI, and why use them?
A gateway basically acts as a bridge between on-premise data sources and Azure Cloud Services.
Personal Gateway: Data can be imported and valid on Power BI Service only. Also, this gateway can only be used by a single person.
On-premises Gateway: This gateway is the advanced form of Personal gateway. It supports Direct Query, and multiple users can use this for refreshing data.
76. How can geographic data be mapped into Power BI Reports?
Through a map chart and a filled map chart, Power BI makes it possible for users to visually map geographic data, both globally and regionally.
Power BI integrates with Bing Maps to find default coordinates for locations in a process known as geocoding.
This integration means that users do not need to provide longitude and latitude coordinates.
77. What happens when you click on a single data point in one of the multiple visuals in a report?
When we do that, data gets selected and copied to the clipboard. Further, the copied data can be pasted anywhere as per the requirement of the user.
78. What is z-order in Power BI?
Z-order is a design strategy that is used for arranging visuals over shapes. Also, z-order can be defined as an implementation method that can be applied when reports have multiple elements. Further, this can also be used to refresh the display after the order of items in a report is changed.
79. What is the prerequisite for connecting to a database in Azure SQL Database?
There is only one prerequisite for this. Before connecting to a database in Azure SQL Database, users should configure firewall settings to allow remote connections.
80. What are some ways that Excel experience can be leveraged with Power BI?
In Power BI, the excel experience can be leveraged in the following ways:
Power BI Publisher for Excel:

The charts, tables, and ranges can be pinned to Power Bi Service.
Datasets and reports stored in Power BI Service can be used to connect with the publisher for Excel.

Excel workbooks can be used for Power BI report creation by exploring the models in tables in Excel.
Pivot models of Excel workbooks can be imported to Power BI Desktop models and to save both time and effort.
You can upload Excel workbooks in Power BI and view them on a web browser, Power BI Desktop, or Power BI Apps.
Like any other report, Excel reports can be shared on Power BI Service with other users.
81. How is the FILTER function used?
The FILTER function gives back a tabler with a filter applied for all of its source table rows. The FILTER function is used as a parameter for other functions.
FILTER can have a negative impact on large source tables as it is an iterator.
A complex filtering logic can be applied, for example,
FILTER(ATable,[SalesMetric] > 1000)
82. What is the CALCULATE function in DAX?
The CALCULATE function helps calculate the sum of an entire column. It can be modified using filters.
Syntax:
CALCULATE ( [, [, [, … ]]] )
Expression: The expression that has to be evaluated.
Filter: The filter is a boolean expression or a table expression that is supposed to define a filter.
83. What is special or unique about the CALCULATE and CALCULATETABLE functions?
These are the only functions that allow you to modify the filter context of tables or measures.
You can add to the existing filter context of the queries.
You can override the filter context from the queries.
You can remove the existing filter context from the queries.
Limitations:
Filter parameters will only be able to work on one column at a time.
Filter parameters will not be able to reference a metric.
84. What is the common table function for grouping data?
SUMMARIZE()
This is the main groupby function in SSAS.
You should specify tables and groups by columns instead of metrics.
SUMMARIZECOLUMNS
It is the new group by function in SSAS and Power BI desktop. It is also more efficient.
You should specify groups by table, expressions, and columns.
85. How would you create trailing X month metrics via DAX against a non-standard calendar?
You will have to use the following:
CALCULATE function to take over the filter context of measures.
ALL to remove the existing filters on the date dimension.
FILTER to identify which rows of the date dimension you would use.
CONTAINS can also used.
86. What are some of the differences between data modeling between Power BI Desktop and Power Pivot for Excel?
The differences between Power BI Desktop data modeling and Power Pivot data modeling are as follows:
| | |
| --- | --- |
| Power BI Desktop | Power Pivot |
| Supports bi-directional cross-filtering relationships. | Supports only single relationships. |
| Security roles can be defined in Power BI Desktop. | Security roles cannot be defined in Power Pivot for Excel. |
87. What are data destinations for Power Queries?
There are two different data destinations for Power Queries:
You can load to a table in a worksheet.
You can load it to the Excel Data Model.
88. What are some common Power Query/Query Editor transforms?
Filtering rows, Adding new columns, Grouping, Choosing/Removing columns, Changing data types, Splitting a column into multiple columns, etc.
89. What are query parameters and Power BI templates?
Query parameters are used to give a local Power BI Desktop report with a prompt to the users. This helps specify the values they're interested in.
The query and calculation can use parameter selection.
PBIX files can also be exported as Power BI Templates (PBIT).
The Template files will contain everything from the PBIX files except for the data.
Templates and parameters help share small template files and limit the amount of data that is loaded into the local PBIX files. This improves the experience as well as processing time.
90. Why do we need Power Query when Power Pivot can import from mostly used sources?
Power Query helps users pull data from various sources, manipulate it according to their requirements, and load it onto Excel. It is better to use Power Query over Power Pivot as with Power Query you don't just get to load data, you can also manipulate it according to your needs.
91. Name some commonly used tasks in the Query Editor.
Shape Data – You can transform your data according to your needs, to shape and clean it.
Pivot Columns – You can pivot columns and then create a table with the aggregate values.
Connect to Data – You can get data from various sources and transform it.
Group Rows – You can group the values of various different rows in a single value by summarizing.
Advanced Editor – You can modify data using Advanced Query Editor.
Create Custom Columns – You can create custom columns with the help of custom formulas.
92. What are the data management gateway and Power BI personal gateway?
Gateways bridge the gap between data sources on-premise and Azure cloud service.
Let's look at the features of both of these separately.
Power BI Personal Gateway:
No central managing, Only Power BI service, Only import
Can only be used by one person
Data Management Gateway:
Supports direct query and import
Multiple users can use the gateway to develop content
Monitor and control centrally
93. What happens when you click the Infocus mode of a tile on the Power BI dashboard on the browser?
When you click the Infocus mode of a tile, it expands the tile and the tiles take full space.
94. How do you consolidate inquiries in Power BI?
Inquiries in Power BI are consolidated using Join Queries.
95. What is a calculated column in Power BI and why would you use them?
Calculated columns are DAX expressions. They are calculated during the model's refresh process/processing of every row of the particular column. It can also be used like any other column of the model.
Calculated columns consume more memory and reduce query performance. They also reduce refresh/processing performance if they are applied on large tables.
96. How is data security implemented in Power BI?
A DAX expression has to be applied on a table that filters its own rows at query time. Dynamic security will involve using USERNAME functions in defining security roles. Finally, a table will be created within the model that will relate users to specific dimensions and roles.
97. What are many-to-many relationships and how can they be addressed in Power BI?
Many-to-many relationships include a junction or a bridge table that reflects combinations from two dimensions.
Bi-directional relationships can be utilized in PBIX.
CROSSFILTER function is utilized in Power Pivot in Excel.
DAX is used to check or transform the filter context.
98. Why might you have a table in the model without any relationships to other tables?
There are usually two reasons for doing that:
An unrelated table can be used to provide the user with parameters that need to be exposed and selected in slicers.

DAX metrics can retrieve this information and use it in other calculations or metrics.

An unrelated table can also be used as a placeholder for UI metrics.
99. What are the differences between a Power BI dataset, a Report, and a Dashboard?
| | | |
| --- | --- | --- |
| Power BI Dataset | Report | Dashboard |
| It is the source that is used to create reports and visuals. | It is a Power BI Desktop file that contains one or more pages of reports. | It is a collection of visuals taken from various reports. |
| Data is inside the model or a Direct Query connection to the source. | It is built to get an interactive, in-depth analysis of particular datasets. | It is built to get aggregate important visuals and metrics from different datasets. |
100. What are the three Edit interactions options of a visual tile in Power BI Desktop?
The three edit interaction options are:
Filter – It completely filters a visual tile on the basis of the filter selection of another visual tile.
Highlight – It highlights the related elements on the visual tile and greys out the unrelated elements.
None – It ignores the filter selection from another visual tile.
101. How does SSRS integrate with Power BI?
There are a few ways SSRS can integrate with Power BI:
Some report items like charts can be pinned on Power BI dashboards.
If you click on the tile in the Power BI dashboard, it will take the user to the SSRS report.
Users will soon be able to publish Power BI reports on SSRS portals.